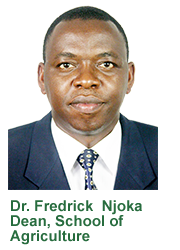 Welcome to University of Embu(UoEm) School of Agriculture. The School is the largest in the University and fast growing.  The school is endowed with highly skilled manpower both academic and technical staff, who provide high quality training at both undergraduate and postgraduate levels. It offers both Undergraduate and Postgraduate courses in the areas of Agricultural Soil Science, Horticulture, Land and Water Management, Agricultural Education and extension, Agricultural Business. The School hopes to introduce short courses meant for the local community.

Currently the school has three departments; Agricultural Resource Management, Land and Water Recourse Management and Agricultural Education and Extension.

The School conducts several extension programmes such as training of farmers, holding field days, attending agricultural shows, ASK ploughing competition Eastern region and offers advisory services.  The School has a large farm where animals are kept and crops are grown.  Some of the animals kept include dairy cows, goats, pigs, rabbits, chicken and fish.  We have greenhouses which we use for learning facilities and for our subsistence.                                                                                                                                                                                       
To ensure that Agriculture gets the personnel with adequate knowledge and skills to propel the industry, the training programmes are regularly reviewed to incorporate emerging scientific and technological issues in the Agricultural, Food and Environmental Sciences.

As a school, we are committed to the optimal utilization of the resources at our disposal to achieve our vision.